How much longer before Ackman traps TRP?
They still talk about it, the senior members of the Canadian corporate directorship community. By "it" I mean the swamping of the Canadian Pacific (CP:TSX) Board of Directors by Pershing Square Capital Management's Bill Ackman.
And, as some form of proof that he was right all along, shares of CP have risen more than 120% over the past 24 months, far outpacing the 30ish per cent increase in the S&P 500. I'm sure the shock has worn off by now, but with Barrick Gold now "out of the way", how long will it be before folks like Mr. Ackman turn their sights on TransCanada (TRP:TSX)?
Why Trap, you ask? The five year share price chart tells the story. While comps Enbridge (ENB:NYSE) and Spectra Energy (SE:NYSE) have generated total returns of 225%-250% for their investors over the past half decade, old reliable Trap has produced just half that: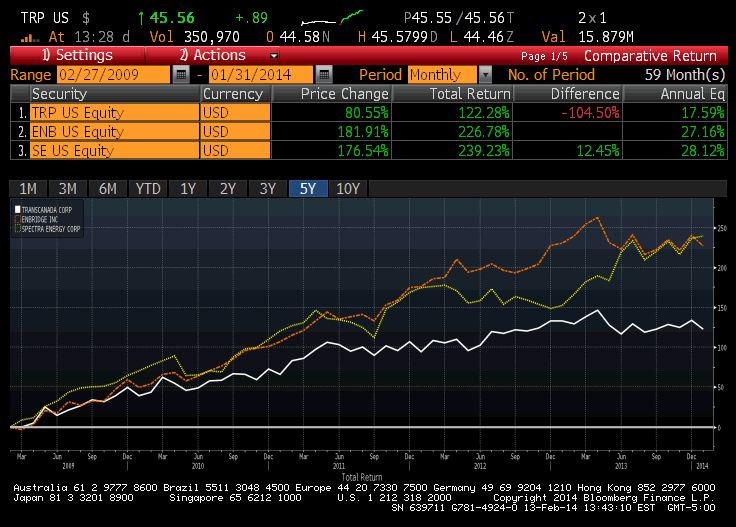 Whomever takes on the file will focus on the $7 million CEO pay package, and the lack of progress in the Keystone pipeline as examples of his/her annoyance, but that relative return share price chart will speak for itself.
Someone must surely be in the wings….
MRM
(disclosure: I own SE)