BDC takes off the competitive gloves with cheap loan rates
For years, you've heard me complain about unfair competitive practices from the taxpayer's very own Business Development Bank of Canada (see representative prior post "'Bruce' the mindless eating machine" May 31-08).  BDC CEO Jean-Rene Halde was always advised his board and Parliamentarians that the private sector's complaints of predatory loan pricing were unfair, and that no feathers were being ruffled in the lending community when the BDC would swoop in with a term sheet and take good business away from a willing Canadian lender — whether it be a Chartered bank or specialty finance firm such as ourselves.
BDC's claims and Imperialistic tendencies weren't tested by a sleepy Senate Banking, Trade and Finance Committee when it came time for the Crown agency to go through its mandatory 10 Year Statutory Review (see representative prior posts "BDC snows the Senate part 3" March 16-11 and "BDC pitches Senate on lending in Mexico and England" Nov. 24-10). For reasons I don't want to speculate about, the House of Commons has yet to have the opportunity to complete its own required review of the BDC's last 10 years. Mr. Halde will definitely wish he'd gotten that Hearing behind him, in light of what is starting to come across in his current set of financial statements.
With the passage of time, the facts usually come to light. And that's exactly what's happened here. Since 2009, BDC's lenders have dropped their "prices", ie. senior loan interest rates, dramatically. And the BDC's loan book has risen 43%, net of repayments, all the while. Have a "sale", and you'll sell more product.
That much of that business has been won at the private sector's expense certainly rankles (see prior post "C.D. Howe report recommends BDC mandate shake-up" Feb 7-13).
What is odd about these ever-lower rates is that the basic business prime rate in Canada hasn't changed over that timeframe. Moreover, BDC has dropped its lending rates far more than what makes any business sense based upon its underlying cost of funds. In essence, BDC is earning a far smaller gross spread today (4.07%) on each and every loan than it did in 2011 (4.22%) or 2009 (5.06%). By choice: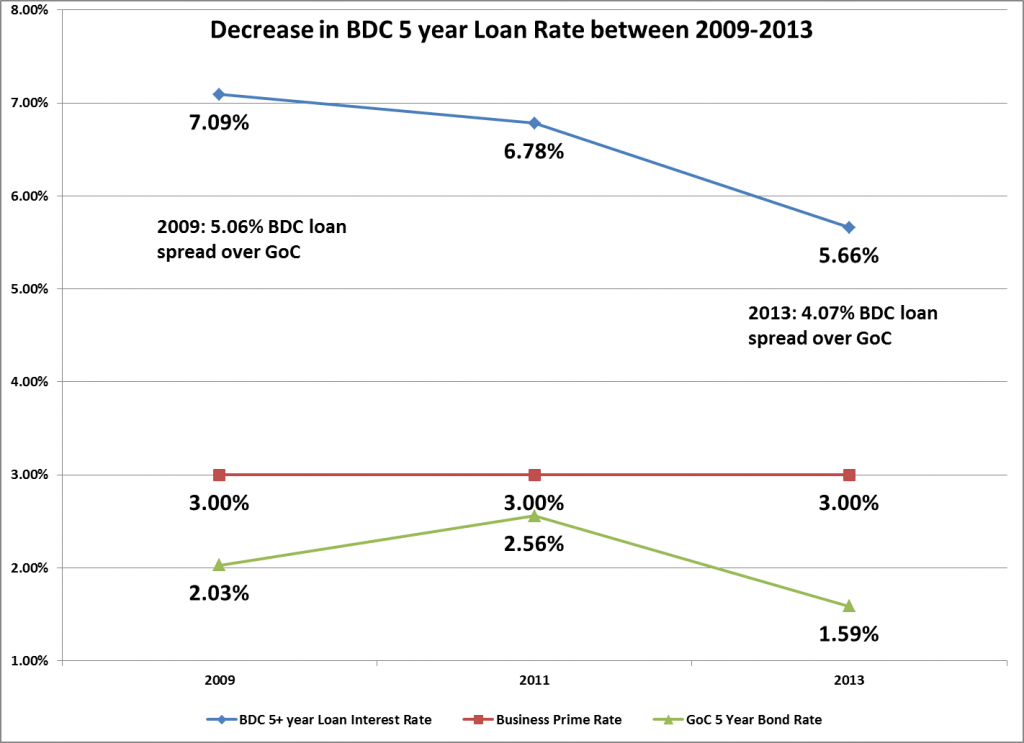 In January 2009, the Government of Canada 5 year bond was at 2.03%. BDC's average 5 year senior loan was priced at 7.09%, coming off the heel of the global financial crisis. According to its 2013 annual financial statements, the average 5 year loan rate at BDC was 5.66%. A drop of 1.43%. This week, the Government of Canada's 5 year bond was around 1.59%, only 44 bps lower than January 2009.
Since BDC's funding is guaranteed by the Government of Canada, the Federal borrowing rate is the perfect proxy for the BDC's own cost of longer term funding.
BDC will say likely say that in the wake of the credit crisis, of course rates are going down as companies become less risky. But, if BDC's mandate is to "fill gaps", why do they appear to be dropping prices faster than the decrease in their own funding costs?
Why is an agency which claims to be "counter-cyclical" (see prior post "BDC snows the Senate part 5" March 18-11), and in business to provide capital which is beyond the risk tolerance level of the private sector, dropping prices when the basic business prime rate is stagnant? Making less on each loan as a result.
MRM
(disclosure – this post, like all blogs, is an Opinion Piece. And, of course, reflects a personal view and opinion and is not meant to represent the views of the TPA, its Board/Staff or the federal government.)