"Accountability" a worthy goal for Tory
Fixing Toronto Part 16
"Why would the City of Toronto plan regular annual maintenance on the Gardiner Expressway on the very same weekend that there are three Toronto Blue Jays games, a TFC game and other civic events, when you could have done it just as easily on the prior weekend or the following one, when there was only a soccer match but no MLB events? You'd inconvenience 20,000 people, but not 120,000 people. Who made that decision? Someone had to. It didn't just happen."
John Tory, October 2, 2014
That quote (recounting as best as I can) speaks to the challenge that lies before Toronto Mayor-elect John Tory. He often spoke of accountability on the campaign trail, and the public responded to it. If you tally up all of the votes that he and Councillor Doug Ford received, almost 75% of Toronto voters were in favour of the concept that accountability at City Hall, broadly speaking, was a necessary component of good government.
The challenge, when all but one City Council incumbent was re-elected to office, will be this: how do you put that natural, City-wide yearning for accountability into action? After seven and a half years of closely watching the wheels churn at City Hall under both David Miller and Rob Ford, I can tell you that it won't be easy.
What Mr. Tory was used to seeing at the United Way or in a business meeting will be a far cry from his new reality.
When Rob Ford was elected four years ago, he had the mandate of a change agent (see prior post "A million Howard Beales" Oct. 22-10). And yet, four years later, not much has changed at City Hall. There are plenty of examples, but I'll use one close to my heart as a case in point.
In September 2009, Toronto City Centre Airport (TCCA) was renamed Billy Bishop Toronto City Airport by the Toronto Port Authority.
Canada was celebrating its 100th anniversary of powered flight that year, and the TPA Board of Directors wanted to commemorate the occasion by renaming the TCCA after one of Canada's most celebrated figures, the fighter pilot and First World War hero Air Marshal William Avery "Billy" Bishop, VC, CB, DSO & Bar, MC, DFC, ED.
At the time, I said that the name "Billy Bishop Toronto City Airport would recognize both the past and the future of Toronto's downtown airport. As Canada's greatest air 'ace', Mr. Bishop is a Canadian hero for the ages, and his ties to our airport and harbour are strong."
After the First World War, Mr. Bishop and another Victoria Cross recipient, Billy Barker, ran a flight service from the Toronto harbour to Ontario's cottage country. During the Second World War, Mr. Bishop also helped recruit soldiers at the newly built Port George VI Island Airport, and flew military aircraft in and out of what would become the TCCA.
I added that "I hope that our men and women in uniform will know that by honouring Canada's most enduring military hero, we are also acknowledging the service of every Canadian who has worn a military uniform." Think about what has happened over the past 10 days….
Mr. Bishop's son, Arthur, himself a WWII RCAF fighter pilot was "excited by the idea", and spoke of how "honoured" his family was by the "recognition." The feedback was fabulous, and the Billy Bishop name has stuck; the former head of Mr. Bishop's museum in Owen Sound, Mary Smith, saw it as a way to acknowledge his legacy with a profile that his historical birthplace couldn't match.
The new name hasn't been embraced, though, in certain corners of City Hall. For the past five years, the TPA has tried and failed to get the "TCCA" signs along the Gardiner and Lake Shore Blvd. changed to "Billy Bishop".
It got to the point where, out of sheer frustration, I actually included the request to change the Billy Bishop signage in a letter to Mayor Rob Ford on Feb. 13, 2013. Remarkably, all of this has been ignored by City bureaucrats, although they were definitely quick to replace the Skydome signs after Rogers Communications bought that facility in 2005.
It was never a question of the added cost of replacing the old TCCA signs, either, since the TPA said it would pay (despite the fact that airport passengers paid $1 million in direct City taxes via their plane tickets last year alone). City staff just willingly chose to ignore the fact that the airport had been renamed after Canada's best known WWI veteran. How is that possible, you ask?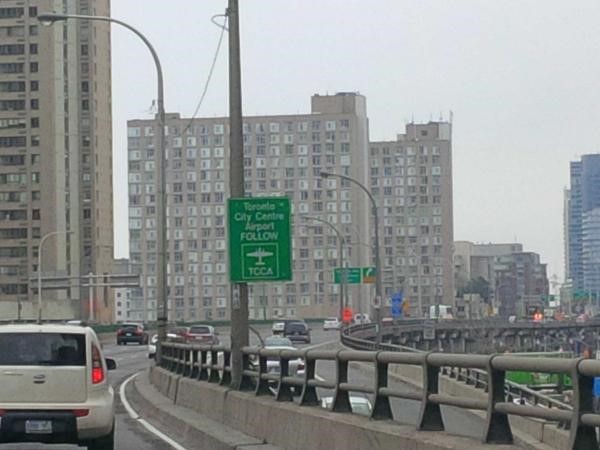 It gets worse: during the past two weeks, a new "TCCA" sign was installed on the Gardiner Expressway by Transportation Department GM Stephen Buckley's staff — to replace one that had been damaged some months ago (it is about 200 yards earlier than the one pictured above).
After more than five years – despite 2014 being the 100th anniversary of the start of the First World War – the "TCCA" wayfinding signs along city routes such as the Gardiner Expressway and Lake Shore Blvd. remain. Canada might call William Avery "Billy" Bishop, VC, CB, DSO & Bar, MC, DFC, ED a "hero", and tourists might find their trip to the airport to be unnecessarily confusing, yet I'm told that one City staffer recently advised that the airport's name "isn't that important to them".
As Mr. Tory said with the poorly-timed Gardiner closure: "someone had to decide." The same goes for the refusal to update BBTCA's signs, when the Transportation Dept. gladly did it for the Skydome. These things don't just happen. Either the bureaucrats were told to stand down by an area Councillor, which seems hard to imagine given the fallout that would occur, or mid-level staff took it upon themselves to ignore the historic event. I've even emailed Mr. Buckley a couple of times myself, seeing that he works for the taxpayers of Toronto and all and is accountable for the department in question, but he has yet to reply.
This is what Mayor-elect John Tory is facing when he takes office in early December. City staff will be in attendance at Toronto's Cenotaph on Remembrance Day to honour the 100th anniversary of the Great War, where almost 61,000 Canadians died and another 172,000 were wounded. But when it comes to acknowledging a Toronto resident and hero like Billy Bishop, VC, no one is accountable. None seemed all that motivated to change a few simple signs.
Fortunately for Toronto, people like Billy Bishop, Billy Barker and Arthur Bishop were only too happy to be held accountable for preserving the freedom that we all cherish today.
MRM
(disclosure – the post, like all blogs, is an Opinion Piece and personal view and does not reflect the views of the TPA, board or staff, the Federal government or the RCN.)