Support for Billy Bishop stays strong, says Ipsos
Good news often gets missed in all of the daily noise, but since many of our readers are folks from the entrepreneurial universe, I know some are interested in the evolving business plans of Porter Airlines, backed by Canadian private equity players OMERS, Edgestone and Dancap.
For all of the tomatoes that some detractors (see prior representative post "Adam Vaughan's specious "$300 million" headline" Jan. 27-14 and "Chicken Little is alive and well" April 20-13) have thrown at Billy Bishop over the past ten months, a January 2014 survey by Ipsos Reid revealed that 90 per cent of Toronto residents "agree" that "Billy Bishop Toronto City Airport is an asset to Toronto," which is up from 87 per cent in August 2013. Respondents also agreed that the airport is "great for the Toronto economy" (88%) and that the island airport makes "a great first impression for visitors" (77%). Hopefully the pedestrian tunnel will help bump up that 77% figure once it is complete next winter.
Two-thirds of respondents (66%) are "personally in favour of having an airport on the island and believe it's good for Toronto," while just 11 per cent are "dead set against it," a number which has remained statistically unchanged in the last four years. The remaining 20 per cent have a neutral opinion of the airport. Will be interesting to see how putative Toronto Mayoral candidate Olivia Chow deals with her longstanding position that Billy Bishop should be closed immediately, which will result in the loss of hundreds of jobs at BBTCA and Porter, not to mention shift contractions at Bombardier's Downsview Q400 plant — the economic lifeblood of 4,000 CAW members.
But the meaty news in the survey arose when Ipsos asked folks for an update regarding their support/opposition to Porter's proposal to bring new technology jets to Billy Bishop, provided they are as quiet as the existing Q400 turboprops that take off from there up to 101 times each day. Unlike those cheaper and less scientific IVR polls that others quote from, Ipsos personally polled a representative, randomly selected sample of 702 adults living in Toronto – including 300 respondents who live downtown, south of Queen Street. (Ipsos Reid has conducted this regular public opinion survey on behalf of the TPA, operator of BBTCA, since 2007.)
The January 2014 poll found that the net proportion of those who support the Porter Airlines' jet proposal has held strong over the past six months. Of those polled, 61 per cent of Torontonians, and 63 per cent of those living south of Queen Street, support the use of jet aircraft at Billy Bishop Airport. This compares an August 2013 Ipsos survey where 60 per cent of Torontonians, and 50 per cent of those living south of Queen, said they supported the use of jet aircraft at Billy Bishop Airport. Overall opposition to jets at Billy Bishop Airport decreased to 35 per cent in January 2014 from 37 per cent in August 2013.
Isn't that worth reporting on? Support for Porter's Proposal rose 13%, to 63%, within the ranks of those who live closest to the airport. Countering the stuff you see on CP24 and hear from some area groups claiming to represent the will of the vast majority of their Waterfront and South Core neighbours.
Statistically, the survey is incredibly comprehensive, as the 700 sample size compares very well to national election polls that rely on the personal interviews of 1,200 people.
Since you haven't seen this news elsewhere, I thought I'd pass it along. The detailed Ipsos results are available here.
It may be that this robust stability in the airport's support is in part due to the TPA's public awareness Myths/Facts campaign, launched following City Council's flip-flop vote on April 3, 2013.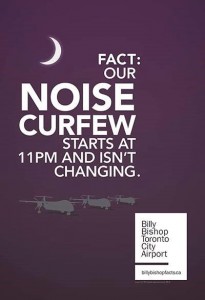 As I've come to learn, few Torontonians know that Pearson Airport has 97 flights each night between 11pm and 645am, while BBTCA has zero, due to its standing overnight curfew on commercial and general aviation. For those living in Leaside, Etobicoke, North York, Forest Hill, York and Don Valley, for example, wouldn't they love to have the nighttime commercial solitude that Billy Bishop's neighbours have enjoyed since 1983. A solitude that's not going to change, whether or not Council ultimately approves Porter's proposal.
And that's the thing I've come to learn about the "airport issue" over my 6 and a half years on the TPA Board. There's the reality, a view which appears to be broadly shared by most Torontonians, and then there's what Adam Vaughan would have you believe. It's a shame that one has to be so vigilant about the latter, given the ongoing Ipsos findings.
MRM
(disclosure: this post, like all blogs, is an Opinion Piece, and as a personal view should not be taken to represent the views of the TPA board, management or the Federal government)