Insights West Poll: Raitt the one to beat O'Leary
News report: Raitt has best favourability rating of all Conservative leadership candidates
According to a poll released this week by Insights West, Lisa Raitt is best positioned to beat Kevin O'Leary in the May 2017 leadership contest for the Conservative Party.  The Insights poll was taken between January 12-17, 2017 based on a sample of 1,007 "representative" Canadians.
Raitt's "favourability index" with both Canadians and those who voted Conservative in 2015 is higher than any other candidate, according to the study:
Raitt has the best favourability score of all contenders, with +9 among all Canadians and +28 among those who voted for the Conservative Party in the 2015 federal election.

Bernier scores +6 and O'Leary +5 among all Canadians, but O'Leary is ahead of Bernier among Conservatives (+30 to +23). The situation is different for Leitch, who holds a negative rating among all Canadians (-6) and is well below the three other contenders among Tory supporters (+10).
Given O'Leary's name recognition, he naturally polls well at this stage, even if Canadians are just starting to find out his political views.  Perhaps O'Leary's profile explains why he was in Hollywood, Florida this week, rather than visiting Conservative Party members in Church basements and local breakfast clubs.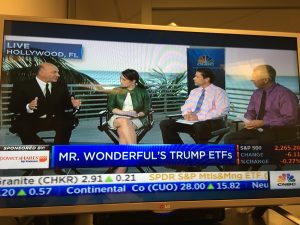 In terms of having a "favourable or very favourable view of a candidate", second to O'Leary's 53% with 2015 Conservative voters is Lisa Raitt (40%), followed by Maxime Bernier (37), Kellie Leitch (27), Erin O'Toole (24), Chris Alexander (22), Michael Chong (21) and Andrew Scheer (21).  O'Leary's spread over Raitt drops to just two points (30 vs. 28) when his "unfavourable" rating is factored in.
With key party debates on the horizon, and volunteers starting to take sides, the race is shaping up to be O'Leary vs. Raitt.
MRM
(disclosure: this post, like all blogs, represents a personal view; FYI: I've donated to more than one CPC leadership candidate, including Lisa Raitt)