After 7+ years as a U.S. resident, Kevin O'Leary tries to deftly return to Canada
There you have it.
With the launch of his Conservative Leadership campaign, budding politician Kevin O'Leary has finally updated his LinkedIn page.  It was only a few days ago that he was officially referring to home as "Boston, Massachusetts".  As of this moment, that's all over: he's back, Canada!
The Commonwealth of Massachusetts?  What Commonwealth?
It shouldn't surprise us that someone around KO understands that if he's going to run for political office on the north side of the 49th parallel, the only Commonwealth he can associate with for the next 125 days is the one involving Queen Elizabeth II.
I've never really understood why Mr. O'Leary "linked-in" with me back on April 16, 2010, but he did just the same.  Perhaps I should take some pride that he wanted me to be one of his first ~60 connections; odd as it was.  He was well aware that I didn't think much of his business prowess, so it wasn't as though we were going to do a deal.  I've always assumed he figured LinkedIn was the best tool to stay on top of my various activities; you know, if our firm ever blew up, for example.  When his initial connection invite came in, I couldn't help but notice that he cited "Palm Beach, Florida" as his residence.
Given Mr. O'Leary's oft-voiced hatred of paying tax, the fact that he owned a vacation property in Florida and appeared to be using it as a permanent residence made sense — given his stated mindset on such things.  Unlike Ontario's 13% provincial income tax rate, where KO also owns a home, Florida charges zero State tax on personal income.  Which means that for every $1,000,000 Mr. O'Leary earned from the fees that he charged Canadian retail investors on his mutual funds (see prior representative post "High MER a surprise at O'Leary's OGE Fund" April 16-09), he could potentially save $130,000 per annum if he really did claim Palm Beach as his home rather than not-so tax-friendly Toronto.
At some point over the following years, Mr. O'Leary changed his LinkedIn residence from "Palm Beach" to "Boston".  It may well have been around the same time that he told the Boston-based cup cake entrepreneurs appearing on ABC's Shark Tank that he lived in Boston's tony "Newbury" district.  If you think about how carefully and methodically KO has crafted his public image, and the pride he takes in doing so, the residency amendment was likely automatic:
People are aware of what I stand for through television. Nobody gets rich on TV but you build brand. That's what I'm attempting to do.
Think about it from KO's vantage point: how can one tell an American television audience that you're a "businessman from Boston" if your LinkedIn profile says you live in the permanent, blue rinse vacation bubble of Palm Beach?  And, with Canada's political landscape looking very different than it does today, KO likely figured there'd be no harm in modifying his evolving TV persona just a touch.
That was then.
When Mr. O'Leary launched his Conservative Leadership exploratory committee a few weeks ago (more on that another time), it struck me that he hadn't yet had the foresight to also update his LinkedIn profile.  Why would KO still promote that he was a resident of Boston, USA if he wanted to be Prime Minister of Canada?  Had he not heard of the challenges Michael Ignatieff faced when he tried to "return" from New York City to save Canada from Stephen Harper?  Mr. Ignatieff never recovered from the attack ads that followed his Liberal leadership victory.
If KO was going to go to the effort of getting a team together, surely he was laying the foundation to formally launch a well-planned campaign.  As such, to avoid the obvious accusation of being a political/geographic Charlatan, surely he'd want to reclaim his Canadian residency on the most public of profiles!  A website with hundreds of millions of fellow businesswomen and men, containing information that might conceivably cause the media to question whether or not he'd been paying all of his taxes in Canada for the last 7+ years.
But, no.  KO has never really been all that good with details.  That could be part of the reason why his mutual fund empire failed.  From that perspective, it shouldn't come as a surprise that he didn't think twice about how his residency situation would look to the Canadian media, not to mention the Conservative Party's membership.  Since many in the U.S. business media have allowed Mr. O'Leary to pretend to be something he's not (a fund manager) for several years running now, it may not have dawned on him that this might even present a problem.
It is also entirely possible that this is KO's Jack Nicholson moment: to paraphrase Colonel Jessep in A Few Good Men: "you're Goddamn right I avoided paying Canadian tax."  Only Mr. O'Leary know for sure.
As secrets go, this is more of an "open secret" than anything.  Thousands of CNBC viewers saw and heard Anchor Melissa Lee refer to Mr. O'Leary as "an immigrant to America" on live television a few short weeks ago during one of their Fast Money spots.  This took place shortly after yet another Canadian media report where KO said he might run for office up here, so I posted Ms. Lee's description on Twitter shortly after she said it.  Silence followed from both CNBC and Mr. O'Leary's camp.
Given KO's stated residency at the time, you appreciate why CNBC believed it to be true (apologies for the B&W printout of his LinkedIn page):
As of today, however, Boston has been discarded for a more politically convenient locale: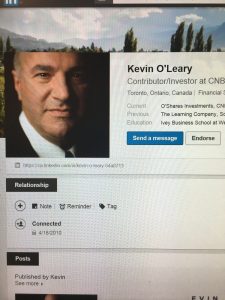 As businesswoman Arlene Dickinson pointed out to the CBC last evening, her fellow "Dragon" is going to have a tough time running away from his record in pursuit of the highest office in our land.  And now that the Canadian media are pointing out that Mr. O'Leary's business track record is nothing more than a litany of failures, the next shoe to drop could be the discovery that Mr. O'Leary isn't even a resident of the country he hopes to lead.
It won't be too long before the MSM call ABC or CNBC and ask where they've been sending Mr. O'Leary's appearance cheques.  And if that doesn't work due to privacy policies, perhaps CNBC's Ms. Lee will give Canadians some insight into why she believes Mr. O'Leary is "an immigrant to the U.S."
As for his tax status, Mr. O'Leary might just try to pull a Trump and claim "no one cares" about his taxes or his true residency.  Time will tell if this so-called "opportunist" can stay one step ahead of his track record, yet again.
MRM
(disclosure: this post, like all blogs, is an Opinion Piece reflecting a personal view)