CB Insights 2016 Tech report debunks Canadian M&A myth
As the saying goes, if I've heard it once, I've heard it 1,000 times.  On the heels of a trip to Ottawa earlier this week, I'm reminded how much bureaucratic advice around Canada's innovation economy is founded on the anecdotal theory that "Canadian entrepreneurs sell their companies too early."
I've never seen any data supporting this accepted wisdom, but it was always a staple of briefings by likes of Jean-Rene Halde, the former CEO of the Business Development Bank of Canada.  As the Liberal government puts the finishing touches on its upcoming budget, you can be sure that this theory was discussed by the Advisory Council on Economic Growth in recent months.  Is it true, though?  And are Canadian VCs to blame?
According to the latest CB Insights Global Tech M&A Report, Canada ranked fourth in Tech M&A last year, behind the U.S., United Kingdom and India.  Considering Canada's smaller population and its relative lack of risk capital, placing 4th in M&A exits is a remarkable feat.  Canadians are creating companies that others want to own.  London's "Tech City" organization was proud their nation placed 2nd — demonstrating that not every country sees "exit" as a four-letter word.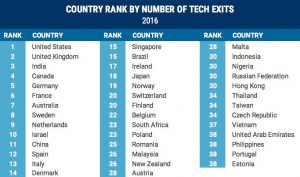 CB Insights found that of 3,260 global tech exits, 54% were valued below US$50 million, and 67% of all exits were valued below the headline-grabbing US$100 million threshold.  These are the very levels that public policy markers throw around when they speak of Canada's weak tech exits.  And yet, based upon more than 3,000 global tech exits (half of which were by U.S.-based companies), the majority of deals are done below US$50M.
How can one say that Canadians "sell too early" if the largest chunk of exits generated by American, British, Indian, German and French entrepreneurs don't exceed US$50M?
As for the paucity of Canadian Initial Public Offerings, there were only 98 tech IPOs the world over in 2016: representing just 3% of the global exits.  I've always lamented the particular lack of comfort within Canada's buyside for tech deals (see representative prior post "Belair / Ericsson deal a wake-up call for every Institutional Sales Desk" Feb. 22-12), but there's nothing unique about entrepreneurs looking to exit to the likes of Google, Salesforce or Accenture, to name the three most active acquirors last year.
Interestingly, CB Insights found that for those exits involving Angel or VC-backed firms, a full 44% of M&A deals took place after a Seed or Series A financing.  Far more than the 23% for firms which had closed a Series B or C round.  If half of the exits took place in the U.S., and the largest cohort involved small external financings rounds, one could conclude that it is the American entrepreneurs who sell their companies early.  Whether or not they sell "too early" is such an inexact science that I don't think the entrepreneurs themselves know for sure.
In my mind, the most compelling stat was that 58% of VC-backed exits across the planet involved companies that had raised less than US$10 million.  Whether that's capital efficiency at work or a quick flip mentality is hard to know.
However, that single stat should put to rest the long-held notion that — when compared to their global peers — Canadian tech entrepreneurs and their VC backers  sell too early.
MRM